The French government has banned English language gaming terms in an attempt to preserve their language.
AFP reported that the French government had become concerned with the intrusion of English language gaming terms into French parlance, and have already come up with translations for prominent terms.
The term "pro-gamer" becomes "joueur professionnel" while a "streamer" has been turned into the decidedly less catchy "joueur-animateur en direct".
"Cloud gaming", has become "jeu video en nuage", and esports will now be translated as "jeu video de competition".
Per The Guardian, "the ministry said experts had searched video game websites and magazines to see if French terms already existed. The overall idea, said the ministry, was to allow the population to communicate more easily."
The culture ministry, which was involved in the process, told AFP the video game sector was rife with anglicisms that could act as "a barrier to understanding" for non-gamers.
The Macron administration has a fairly strong link with the video game industry, with the recently re-elected French president keen on tying esports to the 2024 Olympic Games that are due to be held in Paris.
While there were initial plans to make esports a medal event at the 2024 Olympics, this has been pushed to the 2028 games set to be held in Los Angeles.
Despite this, Macron wants to link the Olympics to esports.
In an attempt to woo younger voters prior to his re-election, Macron told French outlet The Big Whale that he wanted to make France "THE country of video games."
"I don't forget esports, another area of ​​French excellence, with teams like Team Vitality or Karmine Corp," Macron told a reporter in April.
"We have, in this regard, a historic opportunity: that of the 2024 Olympic Games. It is up to us to take advantage of it to make the link between the Olympiads of the two worlds by hosting the biggest sporting events in the world that year: a 'CS:GO' Major, the Worlds of 'League of Legends', and The International of 'Dota 2'.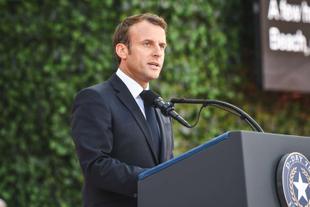 While the French president isn't a gamer (he said in the same interview "it would be a lie to say that I was a very active gamer") he said that he knows "how important video games I am part of a generation that grew up with video games – and that understands what it represents in terms of culture, especially for our youth."
France has a history of defending their language against the march of technology, with the French government changing "email" to "courriel" in 2003, and "autotune" replaced with "Ajustement automatique d'intonation" in 2020.