'Physical' Season Two | June 3
From creator, writer and executive producer Annie Weisman, season two of 'Physical' finds our hero Sheila Rubin (Rose Byrne) having successfully launched her first fitness video only to encounter some new and bigger obstacles on her path. She is torn between loyalty to her husband (Scovel) and the values he represents, and a dangerous attraction to someone else. And since she's no longer the only game in town, she finds herself having to outrun some fierce new competitors on the road to building a full-fledged fitness empire. 
'For All Mankind' Season Three | June 10
The propulsive new season of the alternate-reality series takes viewers to a new decade, moving into the early '90s with a high-octane race to a new planetary frontier: MARS. The Red Planet becomes the new front in the Space Race not only for the U.S. and the Soviet Union, but also an unexpected new entrant with a lot to prove and even more at stake.  Our characters find themselves going head-to-head as their ambitions for Mars come into conflict and their loyalties are tested, creating a pressure cooker that builds to a climactic conclusion.
'Cha Cha Real Smooth' | June 17
Winner of the 2022 Sundance Film Festival U.S. Dramatic Audience Award, 'Cha Cha Real Smooth' stars Cooper Raiff as 22-year-old Andrew, who is fresh out of college and without a clear life path going forward and stuck back at home with his family in New Jersey. But if there's one thing that belongs on his nonexistent résumé, it's how to get a party started, which lands him the perfect job of motivational dancing at the bar and bat mitzvahs for his younger brother's classmates. When Andrew befriends a local mom, Domino, and her daughter, Lola, he finally discovers a future he wants—even if it might not be his own. Raiff writes, directs, and stars alongside Dakota Johnson, Brad Garrett, Leslie Mann, and newcomers Vanessa Burghardt and Evan Assante in this tale of unconventional love that brims with emotional honesty.
'Home' Season Two | June 17
The innovative Emmy Award-nominated design docuseries returns for season two with 10 brand-new destinations — offering viewers a never-before-seen look inside the world's most innovative homes. Each episode in the second season of "Home" unveils the boundary-pushing imagination of the visionaries who dared to dream and build them around the world, including the Netherlands, South Africa, Indonesia, Australia, Mexico, Iceland, and more. Through these unique stories from the homeowners, their deep intention and unique vision is unveiled in the remarkable homes they've created, leaving an indelible impact on those around them.
'Loot'
'Loot' is a new Apple original comedy series from creators Alan Yang ('Master of None') and Matt Hubbard ('30 Rock') starring Maya Rudolph, Michaela Jaé (Mj) Rodriguez, Joel Kim Booster and more. The new comedy follows Molly (played by Maya Rudolph), a woman whose seemingly perfect life is upended after her husband leaves her with nothing but 87 billion dollars.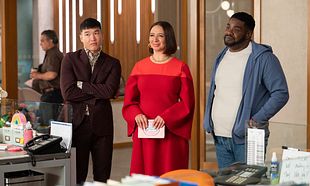 APPLE TV+ - MAY
'Tehran' Season Two| May 6
The international Emmy Award-winning global espionage thriller 'Tehran' returns for season two with two-time Emmy Award winner and Academy Award nominee Glenn Close joining the ensemble cast alongside returning stars Niv Sultan, who returns as Mossad agent Tamar Rabinyan, as well as Shaun Toub and Shervin Alenabi.
'The Big Conn' | May 6
A new four-part documentary series that tells the unbelievable true story of larger-than-life attorney, Eric C. Conn, who defrauded the government and taxpayers over half a billion dollars in the largest Social Security fraud case in United States history. All four parts of the series will premiere alongside an Apple TV+ Original companion podcast that will explore Conn's con and outrageous lifestyle further with additional interviews and behind-the-scenes details.
'The Essex Serpent' | May 13
Starring Claire Danes and Tom Hiddleston,'The Essex Serpent' is a new Apple Original drama series adapted from Sarah Perry's bestselling and 2016 British Book Award-winning novel of the same name. The series follows newly widowed Cora (played by Claire Danes) who, having being released from an abusive marriage, relocates from Victorian London to the small village of Aldwinter in Essex, intrigued by a local superstition that a mythical creature known as the Essex Serpent has returned to the area.
'Greatness Code' Season Two | May 13
The second season of Emmy Award-winning unscripted sports series 'Greatness Code' will return with six brand-new instalments spotlighting six new athletes: English professional footballer and children's campaigner Marcus Rashford; Super Bowl champion NFL quarterback Russell Wilson; six-time X Games gold medalist and professional street skateboarder Leticia Bufoni; Parapan American Track & Field Champion Scout Bassett; Bubba Wallace, the first African-American driver to win a race in NASCAR's premier series since 1963; and four-time World Cup champion alpine ski racer, Olympic Gold Medal winner, author and entrepreneur Lindsey Vonn.
'Now & Then' | May 20
Set in Miami, 'Now and Then' is an eight-episode bilingual and multi-layered thriller told in Spanish and English that explores the differences between youthful aspirations and the reality of adulthood, when the lives of a group of college best friends are forever changed after a celebratory weekend ends up with one of them dead. Now, 20 years later, the remaining five are reluctantly reunited by a threat that puts their seemingly perfect worlds at risk.
'Prehistoric Planet' | May 23 - 27
Set to debut globally on Apple TV+ from Monday, May 23 to Friday, May 27, 'Prehistoric Planet' is a new, highly anticipated natural history event series from executive producers Jon Favreau and Mike Gunton, and BBC Studios Natural History Unit ('Planet Earth'), and narrated by Sir David Attenborough. The five-episode groundbreaking series will transport viewers 66 million years in the past to discover our world — and the dinosaurs that roamed it — all in stunning detail and set to an original score by multiple Academy Award winner Hans Zimmer.
APPLE TV+ - APRIL
'Slow Horses' | April 1
Starring Academy Award winner Gary Oldman, 'Slow Horses' is a new six-episode espionage drama adapted from CWA Gold Dagger Award-winning Mick Herron's first novel in the 'Slow Horses' series. The series follows a team of British intelligence agents who serve in a dumping ground department of MI5 – Slough House. Oldman stars as Jackson Lamb, the brilliant but irascible leader of the spies who end up in Slough House due to their career-ending mistakes.
'Pinecone & Pony' | April 8
Based on the book 'The Princess and the Pony' by New York Times best-selling author Beaton, and hailing from DreamWorks, 'Pinecone & Pony' is an eight-episode animated comedy for kids and families about a young warrior-in-training and her best friend Pony who, by helping each other, learn to challenge their expectations and break the mould.
'ROAR' | April 15
A new Apple Original anthology series that offers an insightful, poignant and sometimes hilarious portrait of what it means to be a woman today. Featuring a unique blend of magical realism, familiar domestic and professional scenarios, and futuristic worlds, these eight stories mirror the dilemmas of ordinary women in accessible yet surprising ways. Based on a book of short stories by Cecelia Ahern, the series stars Nicole Kidman, Cynthia Erivo, Issa Rae, Merritt Wever, Alison Brie, Betty Gilpin, Meera Syal, Fivel Stewart and Kara Hayward. 
'They Call Me Magic' | April 22
'They Call Me Magic' is the highly anticipated four-part documentary event that takes an illuminating, holistic look into the life and career of one of the world's most iconic figures in basketball, Earvin "Magic" Johnson.
'Shining Girls' | April 29
A new, eight-episode metaphysical thriller starring and executive produced by Emmy Award-winning actress Elisabeth Moss, and based on Lauren Beukes' bestselling novel, 'Shining Girls' follows Kirby, a Chicago newspaper archivist whose journalistic ambitions were put on hold after enduring a traumatic assault. When Kirby learns that a recent murder mirrors her own case, she partners with seasoned, yet troubled reporter Dan Velazquez (played by Wagner Moura), to uncover her attacker's identity.
APPLE TV+ - MARCH
'The Problem With Jon Stewart' | Weekly from March 3
With new episodes every Thursday, 'The Problem With Jon Stewart' is a multiple-season, single-issue series with Stewart exploring complex topics through the differing perspectives of stakeholders, experts and individuals confronting these challenges. The Apple Original series will also feature a companion podcast that will extend the conversation from each episode, featuring staff members from across the show who will bring us interviews with activists in the space, the facts on the issue, and yes, lots of jokes.
'Central Park' Season Two | March 4
As season two of 'Central Park' unfolds with eight new episodes, the Tillerman family continues to navigate living in and caring for the world's most famous park. Molly experiences the trials and tribulations of adolescence, Cole is challenged by a truly embarrassing moment at school, Paige continues to chase down the Mayor's corruption story, and Owen juggles managing the park, his staff, and his family all with a smile on his face.
'Dear...' Season Two | March 4
The second season returns with a new roster of icons, including the late André Leon Talley, Viola Davis, Malala Yousafzai, Jane Fonda, Ava DuVernay, Billy Porter, Sandra Oh, Kareem Abdul-Jabbar and Laird Hamilton. 'Dear…' spotlights internationally recognized leaders, entertainers and athletes, and how they have shaped culture and society through a collection of intimate letters from their fans.
'The Last Days Of Ptolemy Grey' | March 11
'The Last Days of Ptolemy Grey' stars Jackson as Ptolemy Grey, an ailing man forgotten by his family, by his friends, and by even himself. Suddenly left without his trusted caretaker and on the brink of sinking even deeper into a lonely dementia, Ptolemy is assigned to the care of orphaned teenager Robyn, played by Dominique Fishback. When they learn about a treatment that can restore Ptolemy's dementia-addled memories, it begins a journey toward shocking truths about the past, present and future.
'The Snoopy Show' Season Two | March 11
Based upon the 'Peanuts' comic strip by Charles M. Schulz, 'The Snoopy Show' is a new animated series for kids and families that stars the internationally beloved beagle and his feathered best friend Woodstock as they tackle all-new adventures.
'WeCrashed' | March 18
Starring Academy Award winners Jared Leto and Anne Hathaway, 'WeCrashed' is the highly anticipated eight-episode limited series from Lee Eisenberg and Drew Crevello, based on the hit Wondery podcast 'WeCrashed: The Rise and Fall of WeWork'. Inspired by actual events — and the love story at the center of it all. WeWork grew from a single coworking space into a global brand worth $47 billion in under a decade. Then, in less than a year, its value plummeted. What happened?
'Pachinko' | March 25
Told in three languages – Korean, Japanese, and English — 'Pachinko' is the highly anticipated international drama series based on The New York Times bestselling, acclaimed novel by the same name. Epic in scope and intimate in tone, the story begins with a forbidden love and crescendos into a sweeping saga that journeys between Korea, Japan and America to tell an unforgettable story of war and peace, love and loss, triumph and reckoning. 
APPLE TV+ - FEBRUARY
'Suspicion' | Feb 4
'Suspicion' is a new, high-paced thriller starring Academy Award-nominated actress Uma Thurman about the kidnapping of the son of a prominent American businesswoman. Twenty-one-year-old Leo's abduction from a large, upmarket hotel in central New York is captured on video and goes viral. Swiftly, four British citizens staying at the hotel become the prime suspects. But are they guilty of any more than being in the wrong place at the wrong time? 
'The Sky Is Everywhere' | Feb 11
Tucked among the magical redwood trees of Northern California and surrounded by her grandmother's gargantuan roses, 17-year-old Lennie Walker, a radiant musical prodigy, struggles with overwhelming grief following the sudden loss of her older sister, Bailey. A new Apple Original Film directed by acclaimed filmmaker Josephine Decker and starring Emmy Award-winner Cherry Jones and Jason Segel. The movie is based on the best-selling YA novel of the same name by Jandy Nelson.
'Severance' | Feb 18
From director and executive producer Ben Stiller, and creator Dan Erickson, 'Severance' is a highly anticipated new drama series. Mark Scout (Adam Scott) leads a team at Lumon Industries, whose employees have undergone a severance procedure, which surgically divides their memories between their work and personal lives. This daring experiment in 'work-life balance' is called into question as Mark finds himself at the centre of an unravelling mystery that will force him to confront the true nature of his work … and of himself.